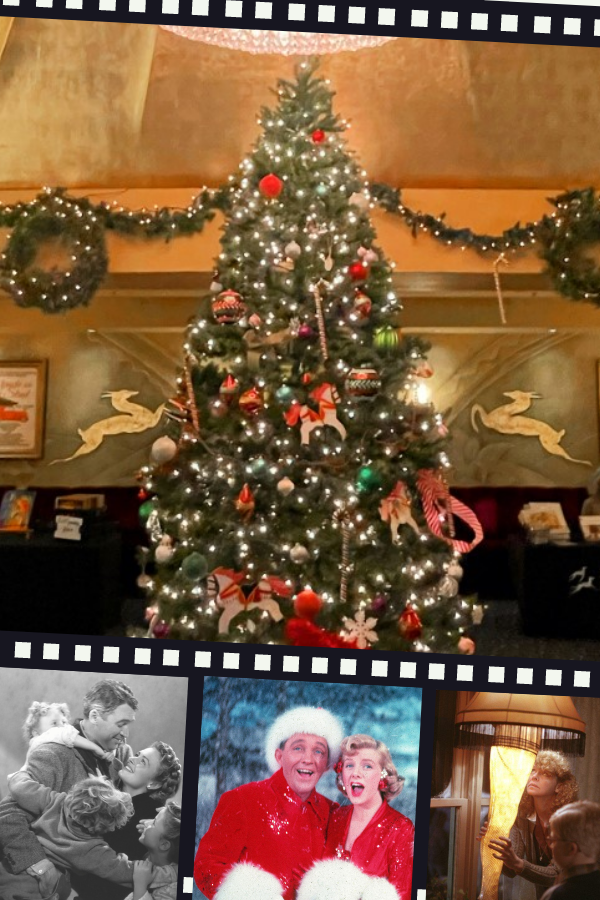 By: Arnold Anthony Schmidt
Making Memories at the Movies with Holiday Classics
(It's a Wonderful Life, White Christmas, A Christmas Story)
When thinking about holiday movies, a word that might come to mind is "nostalgia," seeing the present in light of the past, a past "Golden Age" that we often remember as perfect. We look back on the years gone by, the celebrations and traditions that we had as children or young adults, with our families and friends, and idealize those moments. In my mind's eye I, like many, see past holidays through rose colored glasses. We forget the fuss and work and petty squabbles that occur in any family when preparing to host parties and gatherings, and recall only the great conversations and the fabulous food we ate. That funny story about the time Uncle Bobby's car broke down and the crazy way he fixed it. The delicious cookies that Nana made that no one else can duplicate, no matter how many times they try her recipe. We find nostalgia satisfying because we enjoy reliving that past, but it's also somewhat bittersweet, because the present never seems quite as perfect. Of course, that past wasn't quite that perfect either, but some of our memories of it sure are!
Whether you celebrate Nochebuena or Christmas, Hanukkah or Kwanzaa, seasonal movies provide perfect examples of this nostalgic relationship between present and past. First, of course, the films themselves offer a wish-fulfillment world that we yearn for, a world where all problems find solutions and all conflicts resolve with happy endings. Next, though, seeing the films year after year becomes a wonderful family tradition, especially when you're able to see them on a big screen, as you can here at the State. At the movies, you, your family, and friends share laughs and occasionally tears. And sharing these terrific movies today creates wonderful memories to enjoy tomorrow.
Three of the films showing at the State Theatre illustrate this quite well. First, we have Frank Capra's perennial crowd-pleaser It's a Wonderful Life. The 1946 movie, starring James Stewart, Donna Reed, and Lionel Barrymore, tells the story of someone who wonders if his life has any value. Many of us have asked ourselves the same question – we're not famous or rich or powerful, so why do we matter anyway? During the film, Stewart, who earned a Best Actor Oscar Nomination for his performance, learns that in fact every life has great value because it touches other lives in so many ways, even if he fails to realize it at the time.
The film captures what critics describe as the director's "Capra-esque" style, sentimental and optimistic, with the strong belief in American values that might be expected from an immigrant (Capra's family emigrated from Sicily). Capra's films have an exquisite sense of comic timing that comes from his experiences in silent film (keep
an eye out for the broken staircase sight gag), and an over-the-top emotionalism with good heroes and bad villains who audiences find so much fun to love and hate.
It's a Wonderful Life emphasizes the value of community, asking what it means to be part of a social collective: a family, a town, a country. The story takes place Christmas Eve 1945, just after World War II ends, and revolves around the hero's plans and disappointments. Does it make any difference whether he lives or dies? In the end, in true Capra-esque fashion, most everyone comes together to answer that question, with friends helping friends, neighbors helping neighbors. Stewart does receive some assistance from a higher power as well, and we wouldn't want to forget the Angel (played by Henry Travers) who enables our hero to learn something about himself. In true holiday fashion, the film transports us back to a time that celebrated self-sacrifice and highlighted the value of helping others.
Michael Curtiz's 1954 classic White Christmas, which largely takes place after World War II, gives us a very different picture of the holiday season. It begins, oddly enough, at the pivotal battle of Monte Casino, whose 1944 victory ushered in Allied success in Italy, fighting that destroyed a famous sixth century abbey (now rebuilt). The military setting proves yet another example of the notion that "no good deed goes unpunished," and comic complications arise after Danny Kaye saves Bing Crosby's life. The plot follows a former general, now Vermont innkeeper and presents a lighthearted view of the very serious trials and tribulations that millions of veterans returning stateside faced in readjusting to postwar-civilian life.
Filmed in Technicolor – watch those reds, yellows, and blues pop! – this musical boasts unforgettable Irving Berlin songs, dance numbers featuring Crosby, Kaye, and Rosemary Clooney, and lots and lots of laughs. Plus, it looks fantastic on a big screen! White Christmas is sure to recall to your memory wonderful holidays of the past, whether you actually had snow or not.
Finally, A Christmas Story, based on Jean Shepherd's book In God We Trust: All Others Pay Cash, is a movie many of us think we've seen, but actually haven't. Released in 1983, some TV stations screen it 24 hours a day starting the night before Christmas. What this means, though, is that many of us have watched this movie in parts over the years, a little bit before Aunt Kathleen's casserole, a bit more after grandma's pie, but we've never screened the movie all the way through. And most of us, myself included, have never seen the film on a big screen, something I'm very much looking forward to. Its vibrant Technicolor and kitschy production design warrant seeing it big, because the bigger the screen, the bigger the laughs.
In A Christmas Story, we get an idyllic version of the American winter wonderland. That doesn't mean everything is perfect, nor does it mean everyone gets exactly what they want. (Or do they? Beware winning any "major awards"!) The picture
of this cozy community, though, is as vibrant as the film's colors. And its comedy! The family weathers good times and bad, where good means getting the perfect gift and bad means a ruined meal or broken home appliance, though all problems end up resolved in the end. The film's heartfelt coming-of-age story recounts the transition from childhood to early adulthood, as the hero learns a few life lessons. Ultimately, everyone has a wonderful Christmas (but keep your eye on the duck's head!). Though our holidays may not be as perfect – or as perfectly chaotic — as this family's, the story and characters surely will remind us all of people and events near to our hearts.
What I like most about seeing these films at the State – besides the popcorn – is that we get to experience them with our friends, relatives, and community. The laughs are louder when we laugh together, and the emotional moments more powerful when we're sitting beside those we care about. Between December 20th through the 24th, the State's showing these and other holiday classics, and we hope you'll join us to enjoy them.