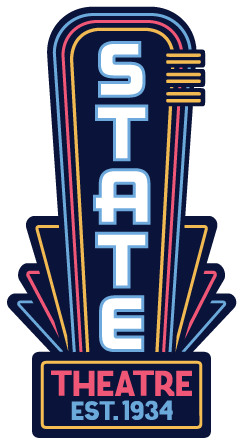 Welcome to The State Theatre's new website. Roundhouse Designs did a fabulous job making our vision come true. We hope you love it as much as we do! We have listened to our patrons with their suggestions on how to improve our website. Here are my two favorite updates.
Our logo is the first thing you will notice that has changed . We've updated the look of the marquee logo to better match our updated marquee at the theater. Have you walked by The State Theatre in the evening when the neon is on? It is absolutely breathtaking!
Our most requested change was a full calendar of all our upcoming films & events. You asked, we delivered! You can now navigate to it by clicking on the 3 lines in the top right corner -> click schedule -> click calendar. From this calendar, you can now click on what movie or event you'd like to buy tickets to!
Here's a link to our YouTube instructional video: https://youtu.be/bHEkNAjymok
Take a look around and tell us what you think. We'd love your feedback. You can call us anytime (209) 527 – 4697 or email [email protected]. Thank you for your support!
Gabi Guerrini – State Theatre GM