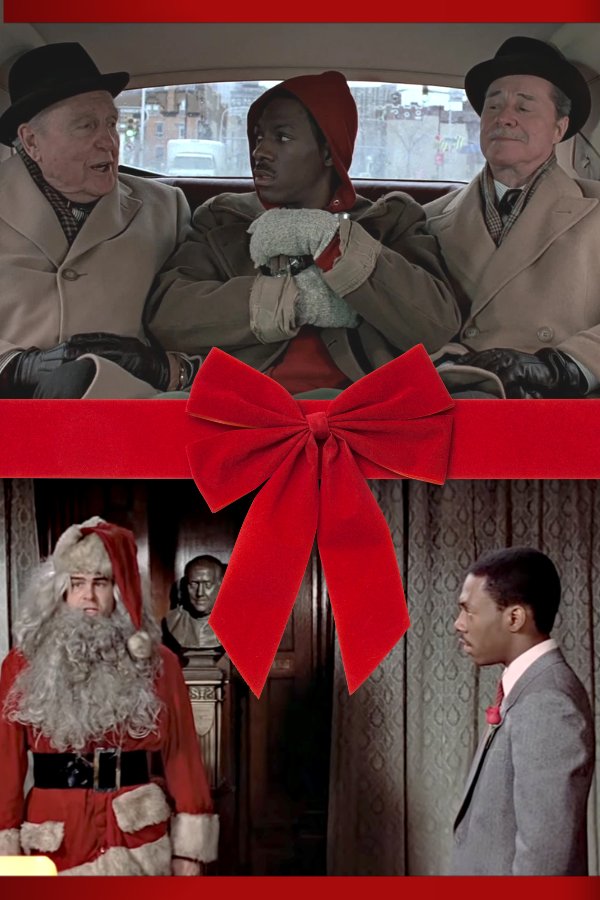 "Trading Places: A Comic Switch with an Eye on Eddie Murphy"
By Arnold Anthony Schmidt
Most of us have spent time daydreaming about "what if?" What if we were richer? Smarter? More athletic? Less shy? Lots of things. In the course of dreaming, we perhaps consider which person in the world we'd like to change places with, a person who has all those qualities we desire, but feel we lack. A person who's just like us, but in some way better.
That's the notion that drives the action (and provides the laughs) in John Landis's 1983 comedy Trading Places. The film takes its inspiration from works like Mark Twain's 1881 novel The Prince and the Pauper – itself the inspiration for a 1937 film with Errol Flynn and Claude Rains. There, a prince and a pauper – you guessed it! – change places to see how the other half lives. Something similar happens here, with Eddie Murphy as a down-and-outer and Dan Aykroyd as an up-and-comer. The film follows the shenanigans as two wealthy men, played by Don Ameche and Ralph Bellamy, cause them to "trade places" on a bet, one going from rags to riches, the other from riches to rags. The fact that this takes place during the holiday season means that Murphy gets a valuable gift under his tree…and Aykroyd gets a giant hunk of coal!
While watching Trading Places, notice Murphy's signature move as he stares directly toward the camera and into the audience's eyes, something he regularly does in his films. This seemingly simple gesture is actually quite complex, with a long history.
Imagine a world where things happen – one in which people live and love and whatever. Then imagine that world has been sealed off from view behind four walls. Stuff's happening, but we can't see it. Now remove one of those walls and suddenly viewers can look into that world. That's how theatre (and film) works. The theatre curtain that rises and falls stands in for that removed wall. The audience eavesdrops on a world that's not our own, one we can see because that fourth wall has been removed.
Now while watching the stage (or screen), audiences accept the reality of the world they're seeing. They have to, otherwise the show doesn't make sense. How can you enjoy Hamlet if all you think about is that the guy up there on stage saying "To be or not to be" is a person just like us who brushes his teeth in the morning and gets stuck in traffic driving home at night? We enjoy the play because we "believe" he's Prince Hamlet, even though we know he's an actor playing a role. The story takes hold, and we lose ourselves in the world it creates.
In part, this accounts for why we like watching shows in the first place. The theatre fosters what nineteenth-century British poet Samuel Taylor Coleridge called "the suspension of disbelief." For Coleridge, audiences realized that what they saw on stage wasn't real (they disbelieved), but they gained pleasure by ignoring (suspending) that realization, by pretending it was real just long enough to enjoy the show.
Now think about what happens when screening Trading Places. Watch what Murphy does (you thought I forgot all about him, didn't you?). First, we lose ourselves to the movie, totally absorbed in enjoying the action (we've suspended our disbelief). Next, Murphy looks directly toward the camera – and thus right into our eyes – breaking the so-called "fourth wall," that removed wall which allows us to see into this world and gain pleasure by pretending that it's real. Murphy deliberately shatters the illusion of film reality, disrupting our "suspension of disbelief."
We no longer believe in the film's reality because Murphy reminds us that he's an actor up there on the screen (like the guy playing Hamlet) and we're the audience down in our seats. This isn't real life, but a cinematic illusion. Finally, Murphy looks away from the audience, returns his gaze to the film, and reestablishes that illusion once again. The film goes on and once more we suspend our disbelief. Again, we "believe" in the world of the movie, if only for the time it takes to watch the film. Murphy, by breaking the fourth wall, gives us a peculiar pleasure and perhaps raises a smile. But there's more to his look than simply a comic gag.
Early twentieth-century German playwright Bertolt Brecht employed a similar technique, one he used to raise people's consciousness of social ills. Brecht's plays create a theatrical illusion and then shatter it, making the point that though we look at the world, we often remain blind to its reality. For Brecht, seeing things as they truly are forces us to admit that problems like war and injustice exist, and thus need to be solved. And who stands ready to solve them if not us? An experience that for Coleridge simply provides pleasure, for Brecht becomes a tool for social change.
But how about for Murphy? He's not making heavy-handed social commentary when he breaks the fourth wall. He does, however, draw our attention to something serious or comic about human nature.
Beyond all the laughs then, Trading Places conveys a lesson. The film reminds us how often "the clothes make the man (or woman)," teaching us something worth remembering as we begin this holiday season. All that glitters is not gold, and much that doesn't glitter can be valuable too. We might bear this in mind when we compare ourselves to others. And perhaps think twice about wishing we could change places.
---
ABOUT THE CAST:
Dan Aykroyd, an original member of Saturday Night Live's "Not Ready for Prime Time Players," starred in the various iterations of both the Ghostbusters and Blues Brothers franchises, as well as many other films. He received a 1989 Best Supporting Actor Oscar nomination for his work in Bruce Beresford's Driving Miss Daisy (1989).
Murphy, first Aykroyd's foil in this film and later his partner, also gained prominence on Saturday Night Live. Trading Places earned him a Golden Globe nomination, as did his work in Walter Hill's 48 Hrs (1982), Beverly Hills Cop (1984), The Nutty Professor (1996), and Dolemite Is My Name (2019).
As a love interest of sorts, Trading Places features Jamie Lee Curtis in a role for which she won a British Academy Best Supporting Actress award. Curtis burst on the scene in John Carpenter's Halloween (1978), later appearing in his horror film The Fog (1980). Her work in A Fish Called Wanda (1988) earned her a British Academy Best Actress nomination. More recently, she's graced the screen in the mystery Knives Out (2019) and this year's cosmic multiverse comedy that's generating lots of Oscar buzz, Everything Everywhere All at Once.
Trading Places also brings together two of the cinema's elder statesmen. Ameche starred in Ernst Lubitsch's Heaven Can Wait (1943), Harry and the Hendersons (1987) and Coming to America (1988). Ron Howard's Cocoon (1985) garnered him a Best Supporting Actor Oscar. Bellamy appeared in Howard Hawks's His Girl Friday (1940) and earned a Best Supporting Actor Oscar nomination for Leo McCarey's classic screwball comedy The Awful Truth (1937).
Rounding out the cast, don't forget Denholm Elliot, well know from Steven Spielberg's Raiders of the Lost Ark (1981), The Razor's Edge (1984), and James Ivory's A Room with a View (1985).
In addition to Trading Places, Landis also directed Coming to America (1988), also with Murphy, as well as National Lampoon's Animal House (1978), The Blues Brothers (1980), and An American Werewolf in London (1981).
---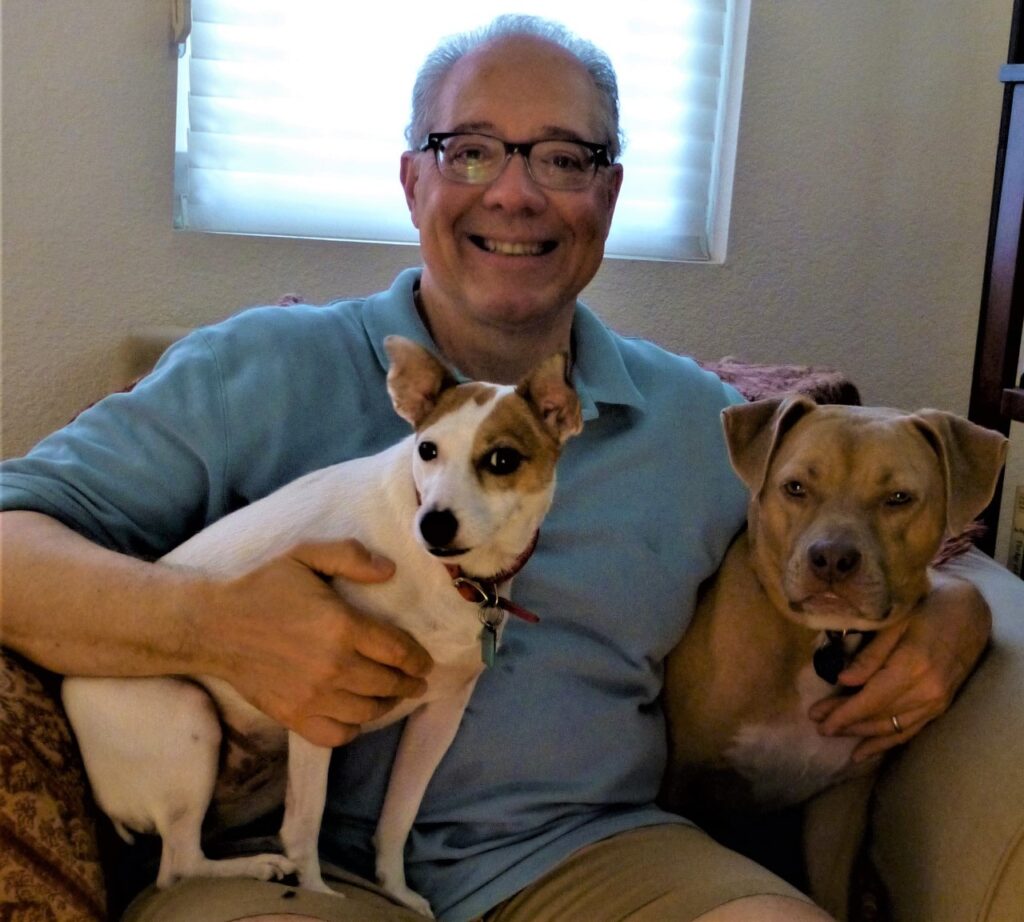 Arnold Anthony Schmidt is a Turlock-based writer who teaches British Literature, Creative Writing, and Film at California State University Stanislaus.

Most recently, the Dramatists Guild West hosted a reading of Schmidt's comedy for young audiences, Pirates, Mermaids, and the Girl Who Couldn't Swim. That play, and a monologue about 1931's anti-Mexican "La Placita" riots, appeared in Grass Valley's 2021 NorCal/Nugget Fringe Festival.

Schmidt's The Super Cilantro Girl, based on stories by U.S. Poet Laureate Juan Herrera, premiered at Turlock's Lightbox Theatre. In 2019, California State University, Fresno brought the play to area schools, where it was seen by more than 6,000 children.

Schmidt's film credits include serving as Assistant Producer on "The Silence," an American Film Institute production nominated for a 1983 Academy Award best short dramatic film; writing a screenplay for Deja Vu, a 1984 Cannon Films feature starring Jaclyn Smith, Nigel Terry, Shelley Winters, and Claire Bloom; and writing the story for the "Tommy's Lost Weekend" episode of the Warner Bros. sitcom Alice, nominated for a 1985 Emmy Award and awarded a 1986 Letter of Commendation from Los Angeles County for its treatment of teenage alcoholism.