Hours: 3 hours in person 1 day a week, and 1.5 optional hours virtually 1 day a week.
In-Person Days/Times: Tuesdays; 5-8pm. Starting Tues. July 11 through Tues. Aug. 29, 2023
Remote Days/Times: Fridays, 12-1:30pm, or by appointment.
Cost: $449 through June 16 / $499 on or after June 17
Class Description:
Whether you're an aspiring screenwriter who wants to sell a screenplay or a filmmaker trying to write something to shoot yourself, this class will teach you the fundamentals of screenwriting for the short and the feature film. You will learn everything from the basics of formatting and structure, to the depths of character development and meaningful storytelling. Students will have the opportunity to bring pages for review every week and will receive detailed feedback on all writing assignments. There will be opportunities for cold reads, interactive exercises, and other engaging group activities. By the end of the course, every student will have either a completed script for a short film or a completed outline and key scenes written for a feature-length film. Join other writers, hone your craft, learn, and write in our brand new, beautiful Intermission lounge. This is not just a class. This is a unique creative writing experience.
---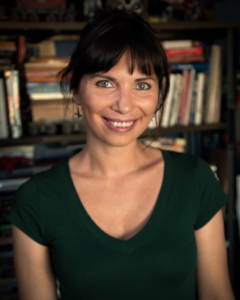 Bio: Sky Tallone has been writing and working within the world of film and video for over 18 years, with a Bachelor's of Fine Arts in Directing and Screenwriting for Motion Pictures & Television (Academy of Art University), and a Master's of Fine Arts in Screenwriting (Regent University). She has studied under talented and seasoned screenwriters such as James Dalessandro, Barbara Harrington and Ian Corson; and worked as an assistant to James Dalessandro, largely reading and providing coverage on student scripts. Sky has been commissioned to write and adapt multiple feature-length screenplays, and has placed in several Screenwriting competitions with her most recent feature-length script, a Supernatural/Sci-fi Thriller titled "Our Maker." She's written several short films which she produced and directed herself and has worked as cast or crew on dozens of film projects, some union but mostly independent. She has been a reader for the Cinequest screenplay competition, for which she would provide detailed coverage and scoring on feature-length screenplays. Writing is her main passion, and she looks forward to helping aspiring screenwriters master the craft of telling stories for the screen.